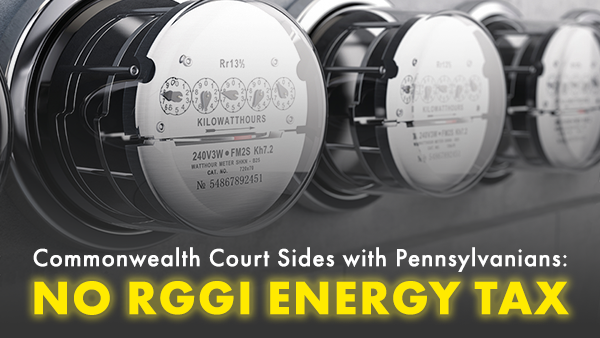 HARRISBURG – Sen. Devlin Robinson (R-37) applauds the Commonwealth Court ruling against imposing the Regional Greenhouse Gas Initiative (RGGI) carbon tax.
The ruling supported the perspective that RGGI is a tax. As part of its ruling, the Commonwealth Court said, "Stated simply, to pass constitutional muster, the Commonwealth's participation in RGGI may only be achieved through legislation duly enacted by the Pennsylvania General Assembly."
"Imposing the $781 million Green New Deal copycat known as RGGI would have been a major executive overreach and an attack on blue-collar energy workers," Robinson said. "The attempt to join RGGI did not receive legislative approval and violated the Pennsylvania Constitution."
Robinson supports efforts to ensure there is sufficient power to meet the demands of customers while avoiding risks of blackouts, restrictions on energy usage and increased prices. Just last week, Robinson joined Senate colleagues following a recent federal decision to award funding to two hydrogen hubs benefitting Pennsylvania and discussed what the future hydrogen economy means for jobs, energy and the environment.
The U.S. Department of Energy selected the Appalachian Clean Hydrogen Hub, also known as ARCH2, to receive federal funding to begin developing and producing hydrogen fuel in West Virginia, Ohio, Kentucky and Pennsylvania.
"ARCH2 is an example of how environmental goals can be balanced with economic security," Robinson said. "RGGI would not have been the best solution for cleaner energy. It would have, however, raised electricity bills for hardworking residents already struggling with inflation and increased energy prices."
Hydrogen energy, a rapidly growing technology, can help to provide consumers with a balanced grid that is affordable, reliable and clean.
CONTACT: