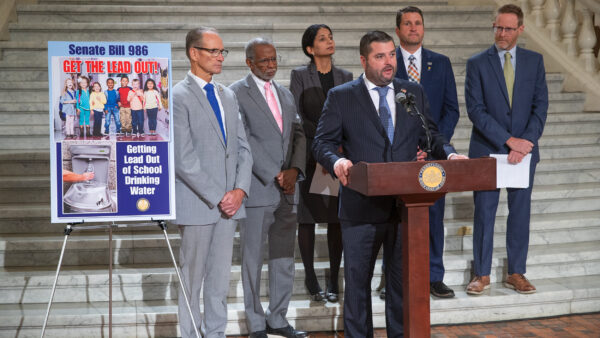 HARRISBURG – Sen. Devlin Robinson (R-37) was joined by Sens. John Kane (D-9) and Art Haywood (D-4), along with industry professionals to announce legislation that would require testing and mitigation for lead in Pennsylvania schools' drinking water.
Senate Bill 986, sponsored by Robinson, Kane and Haywood, would establish the Safe School Drinking Water Fund to ensure all school drinking water outlets are equipped with certified point of use filters by Jan. 1, 2026. The legislation would also remove all drinking water fountains and install bottle-filling stations with certified point of use lead filters.
"Every day, many children and staff unknowingly drink dangerous amounts of lead in their schools' water. The potential negative effects of lead are far greater for children than adults since it can cause physical, mental and emotional concerns for growing bodies" Robinson said. "Our children deserve to drink safe and healthy water while attending school."
In 2018, Pennsylvania enacted legislation to encourage schools to test for lead and report to the Department of Education if the findings were considered dangerous. Since it wasn't mandated, many schools did not test their water, resulting in the Department of Education being unable to collect accurate data.
"Lead contamination is not just about pipes; it's about our children's futures," Kane said. "Our schools deserve nothing less than an all-out effort to replace every old drinking fountain with lead-filtering stations. With our children's health at stake, it's imperative that we take every necessary step to ensure a healthy, lead-free environment for our children's growth."
"Immediate action is imperative, as even minimal levels of lead pose a grave threat to the health and development of our young minds. We cannot ignore the well-documented adverse effects, including damage to the brain and nervous system, physical growth delays, learning and behavior problems, and speech and hearing impairment," Haywood said. "Our objective is crystal clear: to deliver clean, safe water to every student in the Commonwealth, no matter the school district boundaries."
The bill will be considered by the Senate Education Committee.
Watch the full news conference here.
Allison Dutrey (Robinson)
Matt Franchak (Kane)
Erin K. Serre (Haywood)